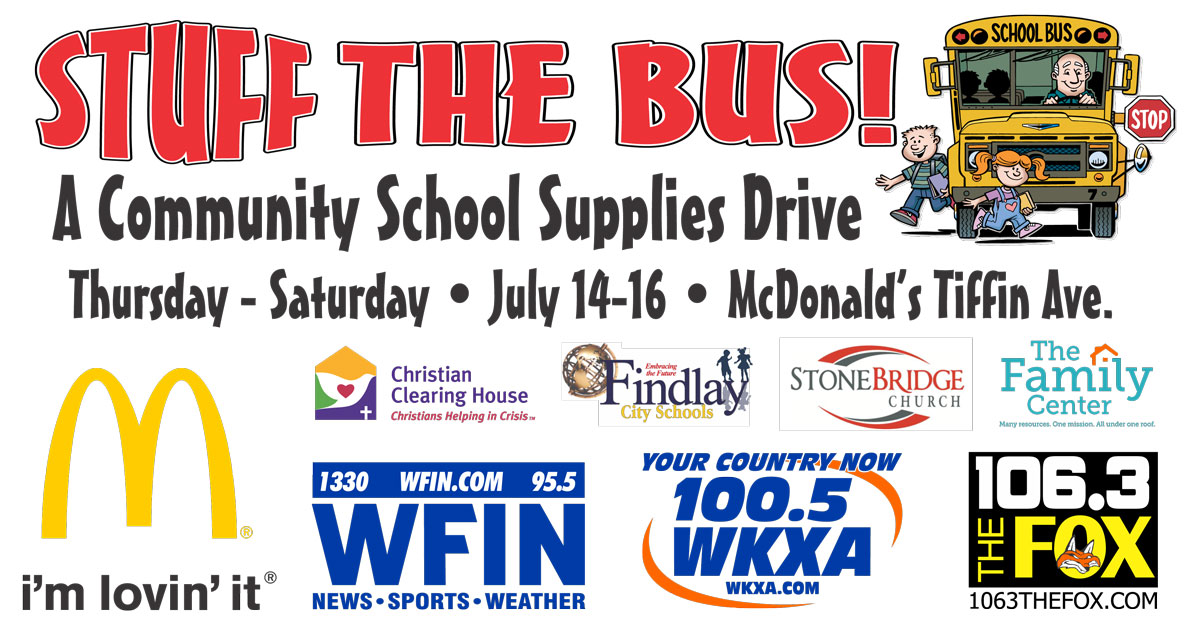 Stuff the Bus at McDonald's Restaurant • 1921 Tiffin Avenue, Findlay
Thursday and Friday, July 14 and 15 from 6am to 7pm
Saturday, July 16 from 10am to 2pm

Volunteers Needed for Stuff The Bus, unload and sort, pack backpacks,
or distribute backpacks and shoe vouchers!
McDonald's, WFIN , WKXA and 106.3 The Fox are joining with area organizations again this year to "Stuff The Bus" with school supplies for local school children in need. We invite you to stop by McDonald's on Tiffin Avenue during designated hours and donate. After Stuff the Bus has concluded, donations can still be made at Stonebridge Church until August 4.
Supplies List:
These lists are intended to give you an idea of the type of supplies needed. Items donated will be distributed according to need for school children throughout Findlay, Hancock County and the local area.
Backpacks
Markers (thick and thin)
Crayons
Highlighters
Dry erase markers
Colored pencils
Sharpies
Pens
Pencils
Calculators T-1-30-X11S
Pencil boxes/bags
Paper (wide and college rule)
Binders
Spiral notebooks
Flash drives
Ear buds/headphones
Erasers
Hand sanitizer
Tissues
Zip lock bags
Paints
Glue sticks
Wipes